My Fear of Heights Gone in 5 minutes with Tapping
Joe panicked just before his scuba diving test
My son Joe decided to learn to scuba dive. He was doing well and then they had to practic "Buddy breathing" and he ran out of air and panicked.  He didn't think he could take the test, so he called me and  we tapped  and tapped.  The next morning he tapped on his own and he passed. He ha s since gone diving in Australia, South Africa and in a variety of aquariums, including EPCOT!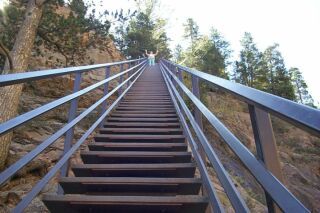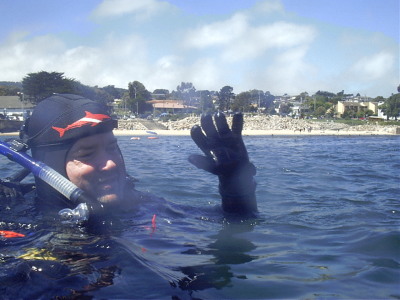 ​I had a fear of heights for 40 years, and in 1991 I had a panic attack on these stairs at Seven Falls Colorado,  The next day Jack Canfielld taught  what was then called The Phobia Cure and my far of heights was gone in less than 5 minutes, never to return. In fact, I used it to eliminate my fear of flying, traveling by myself and I was able to go back to school to earn my PhD when I was  56 years old. I began watching Gary Craig's early video courses and began practicing as an EFT coach in 1998.  I started teaching EFT classes in 2007 after I  became Certified Energy Health Practitioner through the Association for Comprehensive Energy Psychology. 
No more fear of the water.

 
My 4 year old granddaughter was afraid of being in the water.  When it was time for swimming lessons, she held on to her dad and cried.  She didn't want to do it.  I had just given them a Positive EFT book for kids and she loved it.  He dad asked her if she wanted to tap, and she agreed. He asked her what she wanted to tap on and she said "Brave and Strong"  So they did.

This is her after 3 weeks of lessons.  Now she can swim the length of the pool.
Do you have a fear or phobia you would like to release

?

​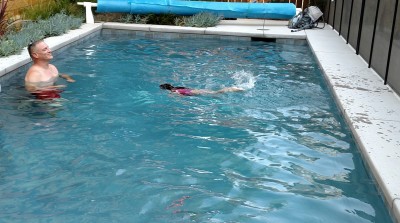 Are you a salesperson who is resistant to making cold calls?

Is your world getting smaller and smaller because anxiety and panic attacks keep you stuck?

Do you avoid flying, heights, animals, elevators, or water because of fear?

Are you ready to release any of these?

Sign up for my newsletter or contact me.